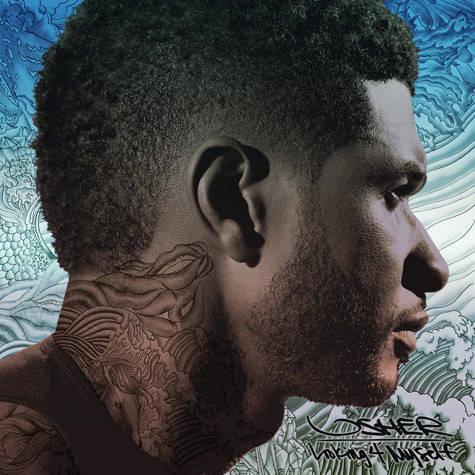 Usher comes back with the new hot album Looking 4 Myself, he def have erased the line between pop and r&b. Me personally too much pop kills r&b, I know pop sells more but r&b is where my heart is, so I can enjoy
SOME
pop records but not a whole album of it from an r&b artist. So Usher gives the fans r&p (rhythm and pop) without going all the way over to pop. Instant faves are Twisted ft Pharell, I Care For You, I.F.U. 2nd Round. I feel this album can and will grow on me .. I give it 3 1/2 out of 5 kisses .. What are your thoughts on this album .. Def a change from Raymond Vs Raymond.
Check Out Twisted
Next up is Trey Songz ... (Muah)
Trey hit fans with a club banger after softening us up with Sex aint better than love and Heart Attack, he teamed up with Atlantic label mate T.I. and told us his 2 reasons for coming to the club Bitches And The Drinks straight forward right, something just to make us ladies shake in the club basically. Watch someone have a issue with him calling women bitches (old debate) Some women are just bitches accept it lol.. But watch out for that new album Chapter V coming Aug 21 peep the video for 2 reasons.
Ne-Yo's Turn
Ne-Yo is one of my favorite artist his albums don't disappoint, He is back and showing off that body of his in his new video Lazy Love. OMG lawd it gets hot in this video. Never looked at Ne-Yo in this light but that body is NICE!!! Peep the Explicit version. Check the R.E.D. album coming Sept 18th
Last but not least Chris Brown
Chris Brown had got 3 videos out right now Til I Die, Sweet Love, and Don't Wake Me Up ..
My Personal opinion (My Blog I can do that) I'm not feeling Don't Wake Me Up .. I really don't go hard for Chris pop joints .. But I do like Sweet Love that is the jam So enjoy that ...
For those that would like to see Don't Wake Me Up here ya go
Usher and Chris Brown are R&P nothing wrong with that as long as the R is still here .. -Truth
Tweet This